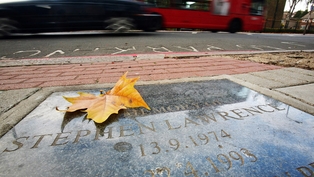 Two men have been found guilty of the murder of Stephen Lawrence, nearly 19 years after the teenager died.
Gary Dobson, 36, and David Norris, 35, had denied involvement in the knife attack on the 18-year-old at a bus stop in Eltham in southeast London in April 1993.
But a jury at the Old Bailey court in London found them both guilty on the basis of new forensic evidence.
Both men are due to be sentenced by judge Mr Justice Treacy tomorrow.
Dobson protested his innocence as he was led from court saying: "You have condemned an innocent man here, I hope you can live with yourselves."
Stephen's parents Doreen and Neville wept as the verdicts were delivered.
A judicial inquiry into the handling of the case by London's Metropolitan Police found "institutional racism" within the police and led to significant changes in the way murders involving black victims were investigated.
The so-called Macpherson report is regarded by many as a defining moment in British race relations and one of the key moments in the modern history of criminal justice.
For the full story click
http://www.bbc.co.uk/news/uk-16347953
For news footage as the story broke
http://www.bbc.co.uk/news/16391258
http://www.rte.ie/news/2012/0103/lawrences.html?utm_source=twitterfeed&utm_medium=twitter